March 17th, 2013
Virtual Exhibits - International Women's Exhibit 2013
Nina Stavlund is included in an online virtual photo exhibit, together with over 220 other women from around the world!
Her photo: "La la lalala.. I am so Happy..." Gentoo Penguin are in the top twenty chosen!
The exhibit is sponsored by Women In Focus, a women's photography Group in Atlanta, Georgia. Curator is Gittel Chase Price, President of Women In Focus and Founder of the Women In Photography LinkedIn Group of more then 29,000 women from all parts of the globe.
December 3rd, 2012
Hi Everyone,

I've made a limited time promotion sale today, that will last until December 5th.
The promotion is packs of 10 & 25 greeting cards of the 5 images in the collection.
Save between 10-16% off on the packs!
Now for a pack of 10 cards: $39.50. Regular price $44.50
Now for a pack of 25 cards: $62.50. Regular price: $75

Happy Holidays to All ~
Best wishes
Nina ~
November 9th, 2012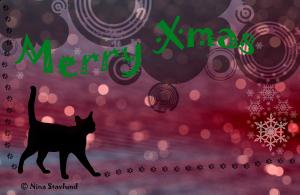 Contest - A Purrfect Xmas Card

Christmas Holiday Season is coming up fast and it's time to get those beautiful greeting cards organized, made & sent out to family and friends!

This contest is about making your Xmas Greeting Card.
The card MUST contain at least one - 1 - cat and relate to the Xmas holiday theme.
Any cat is welcome; big, small, real, unreal, domestic or wild. If the cat is captive, no obvious cages or similar factors will be accepted.
Any medium is welcome; fantasy art, digital art, traditional art, photography art.

2 submission per contestant, and you can vote for as many as you like (the more the merrier).

NO VOTE SOLICITATION WILL BE ACCEPTED!

Please join the sponsoring group if you're not already a member and submit your images there as well.

The admin reserves all rights to delete entries not suitable for the contest.

Winners will be featured on the Home Page of the Sponsoring Group: Cats are Lovable!

Submission Rules
Each participant may submit 2 images.
Voting Rules
1) You must be a member of FineArtAmerica.com in order to cast votes in this contest. Your account must have been active at least 30 days prior to the start of the contest in order to vote.
2) You may only vote once per image.
3) You may vote for as many images as you like... but only once for any given image.

Contest Timeline
Status: Now Accepting Submissions (9 Days Remaining)
Submissions Begin:Friday, November 9th, 2012 - 9:44 PM
Submissions End / Voting Begins:Monday, November 19th, 2012 - 9:44 PM
Voting Ends / Prizes Awarded:Friday, November 23rd, 2012 - 9:44 PM
Current Time (Eastern United States):Friday, November 9th, 2012 - 11:36 PM
Contest Prizes
This contest will be awarding the following prizes:
1st Place:Knowing you are the most creative of them all
2nd Place:Knowing that you are quite the artist
3rd Place:Knowing that your creativity is not that bad after all
October 1st, 2012
My photo art work "Reaching Nirvana" has now sold 10 times here on Fine Art America!
Everything from a greeting card to framed and rolled in a tube prints.
Last sale, and the very first one in Europe, was a metal print sold to a buyer from Sandvika, Baerum - Norway!
My own home country and birth place!
I am so honored and happy, I don't have words to express myself!
Thank you so much to all you wonderful people out there for your support.
I am delighted to know that my work now decorates several walls around the world.
Humbly yours
Nina Stavlund ~
September 26th, 2012
Photography, Birding, Nature & Wildlife: Always An Adventure just launched their FALL Schedule for 2012!

Relaxed, Fun, Exciting & Educational Excursions in the Ottawa Area.


Join in on single half day excursions or perhaps you would like to join one of our two FULL day excursions this fall?
The best deal contains ALL 15 excursions, including two full day excursions, for only $230 (HST included).
Offer Expires October 12!!
Registered Members Can Expect More!
HURRY, Space Is Limited!!!

Take a look and let us know if you have any questions!

Cheerio
Always An Adventure
https://www.facebook.com/pages/Always-An-Adventure/189237974431755
November 18th, 2010
Hooray!
Today, I made my first Greeting Card sale at FAA.
It was a pleasure to see that it was one of my current two Blue Jay pictures that the customer liked.
The Blue Jay is a passerine bird, native to North America.
They are fairly big birds, with about 28 cm (11"), and 100g (3.5 oz).
They are quite bold and noisy and often migrates in big flocks.
The Blue Jay has a large variety of sounds, and mimics the call of Red-shouldered Hawk,
and can even learn to mimic human speech.
They eat nuts and acorns, grains and seeds, also insects.
The customer is coming from Michigan USA, which is pretty close to Ontario, Canada, where the picture was taken.
~ Thank you :o)

October 30th, 2010
It was a great surprise for me today, to see that I had won my first contest at FAA.
The contest was initiated by Corina Bishop, Marshall, MO United States, and the contest title was 'Loss and hopelessness'.
It was 87 pieces of Artwork, and 136 votes.
I contributed with one of my favorite pictures that I took while attending evening photo school in Norway.
It was a late November Saturday afternoon and we were at school doing a so called 'cover shoot'. Model, hair & make-up artist was booked and everyone had a great time.
The shoot was carried out on location, in the basement at the school in Oslo. The only heat the poor model Aoife Maloney Westgård had, was a 600watt lamp pointing in her direction.
She was dressed up in a thin angle-like dress and was very cold, but she never lost her concentration and as seen in the picture, she played the role of despair and loneliness to the best.
I had a music tune glued to my brain those days, and had been thinking to make a picture to go with the song.
Normally I would use myself as the model, but this day, with the perfect model and just the right setting, the picture unfolded in front of me.
There is was: Lost Dreams...
Music by ~ Delerium Ft. Sarah McLachlan ~ Silence ~
Lyrics:
Give me release
witness me
I am outside
give me peace

Heaven holds a sense of wonder
and I wanted to believe
that I'd get caught up
when the rage in me subsides

Passion chokes the flower
'til she cries no more
possessing all the beauty
hungry still for more

Heaven holds a sense of wonder and I wanted to believe
that I'd get caught up
when the rage in me subsides

I can't help this longing
comfort me
I can't hold it all in
if you won't let me

Heaven holds a sense of wonder and I wanted to believe
that I'd get caught up
when the rage in me subsides

In this white wave
I am sinking
in this silence
in this white wave
in this silence
I believe
I believe

I have seen you
in this white wave
you are silent
you are breathing
in this white wave
I am free
I am free
I am free

http://www.youtube.com/watch?v=GjtxevtvdEw